Mercedes-Benz GLS vs BMW X7: Performance
The engine rumbling under the hood of your SUV is sure to turn heads around the neighborhood. You'll find similar equipment on both the 2022 GLS and X7, such as a standard 6-cylinder engine with a mild hybrid feature.
In the table below, you'll be able to see some engine metrics side by side, such as the horsepower production and towing capacity when properly equipped. Check it out to learn more.
2022 Mercedes-Benz GLS vs BMW X7: Engine Performance and Metrics
| | | | |
| --- | --- | --- | --- |
| | Horsepower | Torque | Maximum Towing Capacity (when properly equipped) |
| 2022 Mercedes-Benz GLS | 362 hp | 369 lb-ft | 7,700 lbs. |
| 2022 BMW X7 | 335 hp | 331 lb-ft | 7,500 lbs. |
The 2022 GLS engine has a slight edge over the X7 engine, as it produces more horsepower and torque. It can also tow up to 200 more pounds when you need to transport furniture, or gear for a trip.
On daily drives or trips, you may want to switch up your driving style. The 2022 Mercedes-Benz GLS offers the standard DYNAMIC SELECT system, which is similar to the BMW's Driving Dynamics Control. Both have modes for Sport and ECO, but it's the 2022 GLS that boosts this feature through its Off-Road mode, as well as its uniquely customizable Individual mode.
Mercedes-Benz GLS vs BMW X7: Luxury Amenities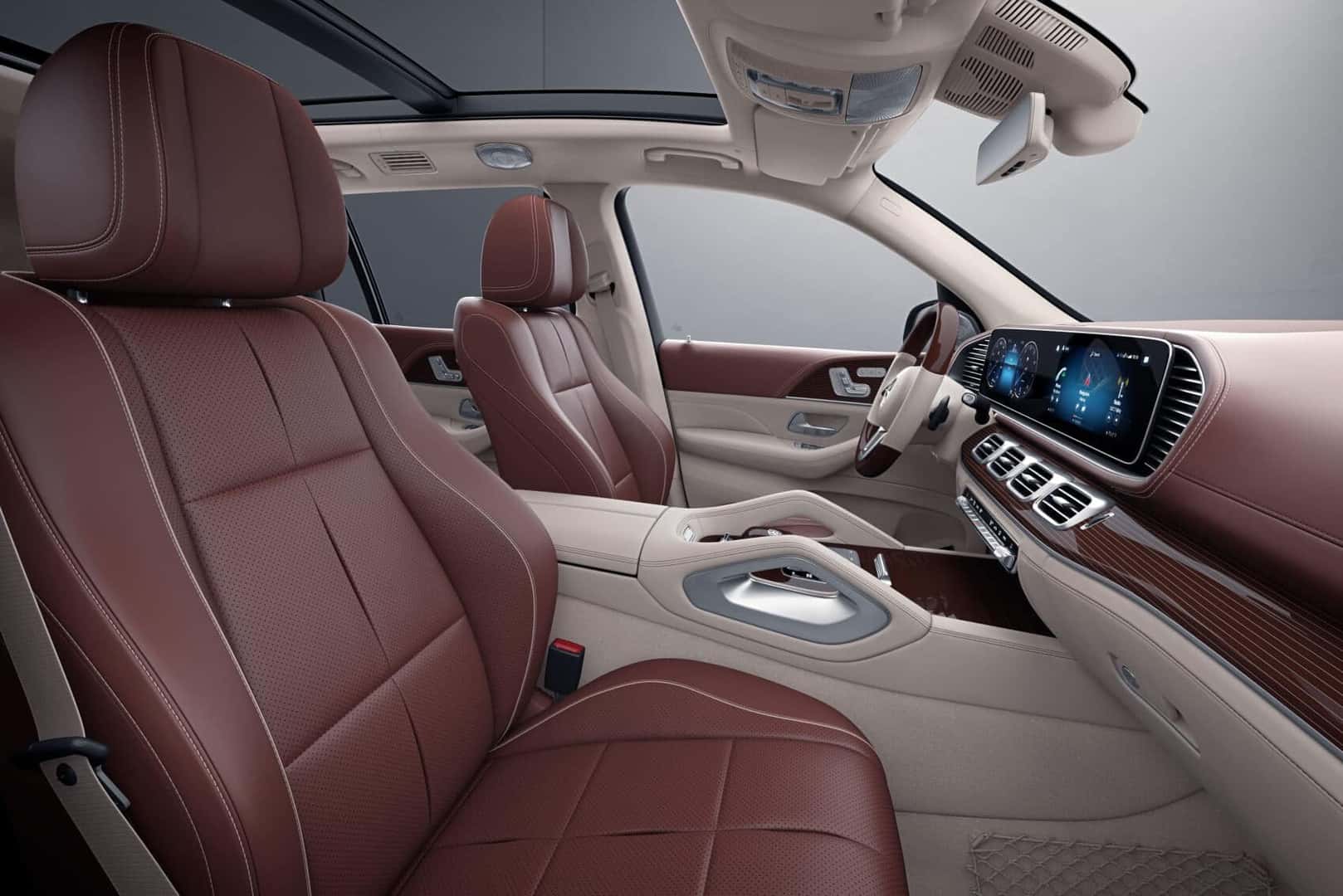 You'll feel comfortable and stable thanks to that power, and plenty of luxury amenities help too. Both SUVs offer standard 7-passenger seating—or available 6-passenger seating—to best fit the needs of your family.
Once everyone is settled in, you can each choose temperature settings from the standard 4-zone automatic climate control system. The 2022 Mercedes-Benz GLS goes the extra mile with its available 5-zone automatic climate control system—an upgrade not found on the BMW model.
A number of upgrades, however, are shared among the two. They include the following:
Heated front and rear seats
Heated and cooled cupholders
Leather seating upholstery
Both go on to include their own set of standard features. For example, the 2022 Mercedes-Benz GLS comes standard with ventilated front seats, while its BMW counterpart does not. You'll instead have to upgrade to cool down on your drives.
Mercedes-Benz GLS vs BMW X7: Technology
More cool features come in the form of technology. Some incredibly advanced systems are sure to be seen, mixed in with some old favorites. The following features will be found standard on the 2022 GLS and X7:
A 12.3-inch touchscreen
A 12.3-inch digital instrument cluster
Apple CarPlay™
Android Auto
Those touchscreen systems also operate similarly with voice control. The 2022 GLS uses Natural Language Understanding so that you can make voice requests with regular human speech, and the X7 functions via a similar system.
However, the 2022 GLS once again takes it up a notch. Its available MBUX (Mercedes-Benz User Experience) Interior Assistant watches the hand movements of you or your front-seat passenger to predict what features you're looking to adjust. It overall creates a more seamless way to adapt the cabin. Unfortunately, you won't find such an advanced system on the BMW model.